Hello Cyanic Community,
It's Irmak again! I'm very excited to write this blog post since I'll be sharing my interview with Burch Smith about our new Huskies Collection. In case some of you haven't heard yet, we officially launched our new Huskies Collection on Friday, March 19! I couldn't resist but ask Burch how the Huskies Collection came to life and what it represents! Let's get into the details of our interview and learn more about Cyanic Clothing's brand-new collection.
Of course, my first question to Burch was the inspiration behind his design. Burch's ultimate goal with this collection was to reflect the strength and togetherness in Canadian culture. The Huskies Collection tells the story of us, a diverse Canadian family, full of diverse journeys that come from different backgrounds. While the husky in the middle of all three designs represents the strength of Canadian culture, the maple leaf reminds us of the inclusive and friendly side of our country. When I asked Burch to describe this line with a single word, Burch replied "community" and said "This design, for me, bridges all of us together. We, as Canadians, are always known to be inclusive and welcoming. And even at these tough times with the pandemic, we've proved to be resilient."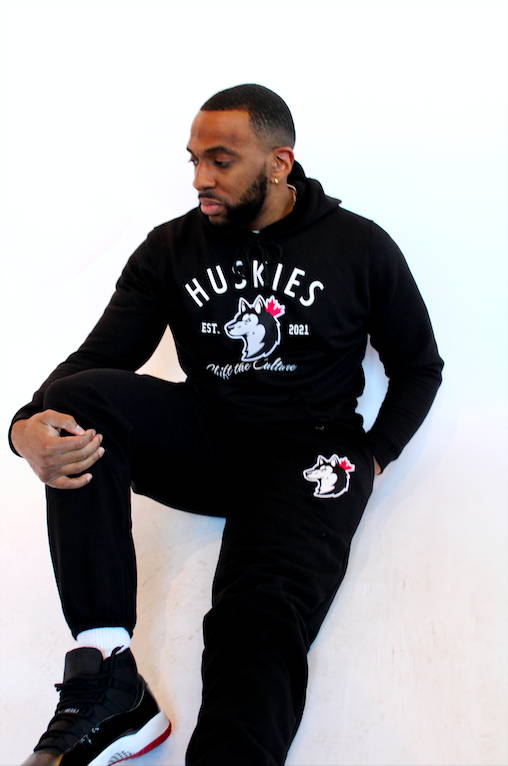 The most outstanding part of this collection is its manufacturing process. Burch did not only wish to represent Canadian culture but also wanted all new products to be 100% made in Canada as he states, "From the manufacturing to the final design, it was all about Canada."
By prioritizing local manufacturers, Burch wanted to support the Canadian manufacturing industry and give the Cyanic Community the chance to support local businesses with their purchases. The main for this was, of course, the COVID-19 pandemic, which even presented many challenges with establishing this Collection. He told me how frustrating it has been to put this Collection together with the delays due to the Stay at Home Order. However, amongst these challenges, he remained positive, affirming how the pandemic "tested our resilience and positivity as a team." Even though it was a tiring process, Burch considered it a golden opportunity to focus on the brand's mission and focus on new ways to connect with Cyanic's community. His positive perspective definitely inspired me when he said, "even though things didn't always go as planned, as a team we looked at these negative times as a blessing. While we wait, we had one question in mind: what can we do better?"

Lastly, I asked Burch if he has a final message to the Cyanic Community, and he said "At a time when we feel distant, fed up and tired with the pandemic, we can still remember that we live in an amazing country and we have so many things to be grateful for. Burch believes that there is a warmness and inclusivity in our culture that has never went away, if anything became stronger, through the COVID-19 pandemic, and this is something to be proud of.
Looking to Join the Cyanic Blogging Team?